HOW IT BEGAN
This project began at 20 weeks when I wanted to take a pretty gender reveal picture, but it was a weekday and no one was available to come help me take it. So I drove to the snow and took one myself! After moving to Texas I realized I'd be spending a lot of time alone since I'm not working right now, and I wanted something more than mirror selfies to remember my pregnancy by. It was also a great (albeit small) creative outlet for me while not photographing clients. I didn't follow any sort of timeline, I just took photos as they came to me or as I pleased. I'm SO happy I did this little project and plan on continuing with it after Wesley makes his grand entrance earthside. :)
20 WEEKS // 1.31.16
My Gender Reveal photos in Oregon at Odell Lake. It's a BOY!
My tripod broke while I was there so the first photo was taken with my camera sitting on a snow bank and the second was taken from the hood of my car!
25 WEEKS // 2.4.17
After our move to Texas we made a trip to Austin to see friends and visit Inner Space Caverns!
26 WEEKS // 2.13.17
Getting settled into the groove of stay-at-home-momness and nesting away in the nursery! This first image is still one of my very favorites. I've spent a lot of time on my own, inwardly focused on me and my baby, and I think this image captures that peaceful calm quite well.
27 WEEKS // 2.15.17
More home life. :)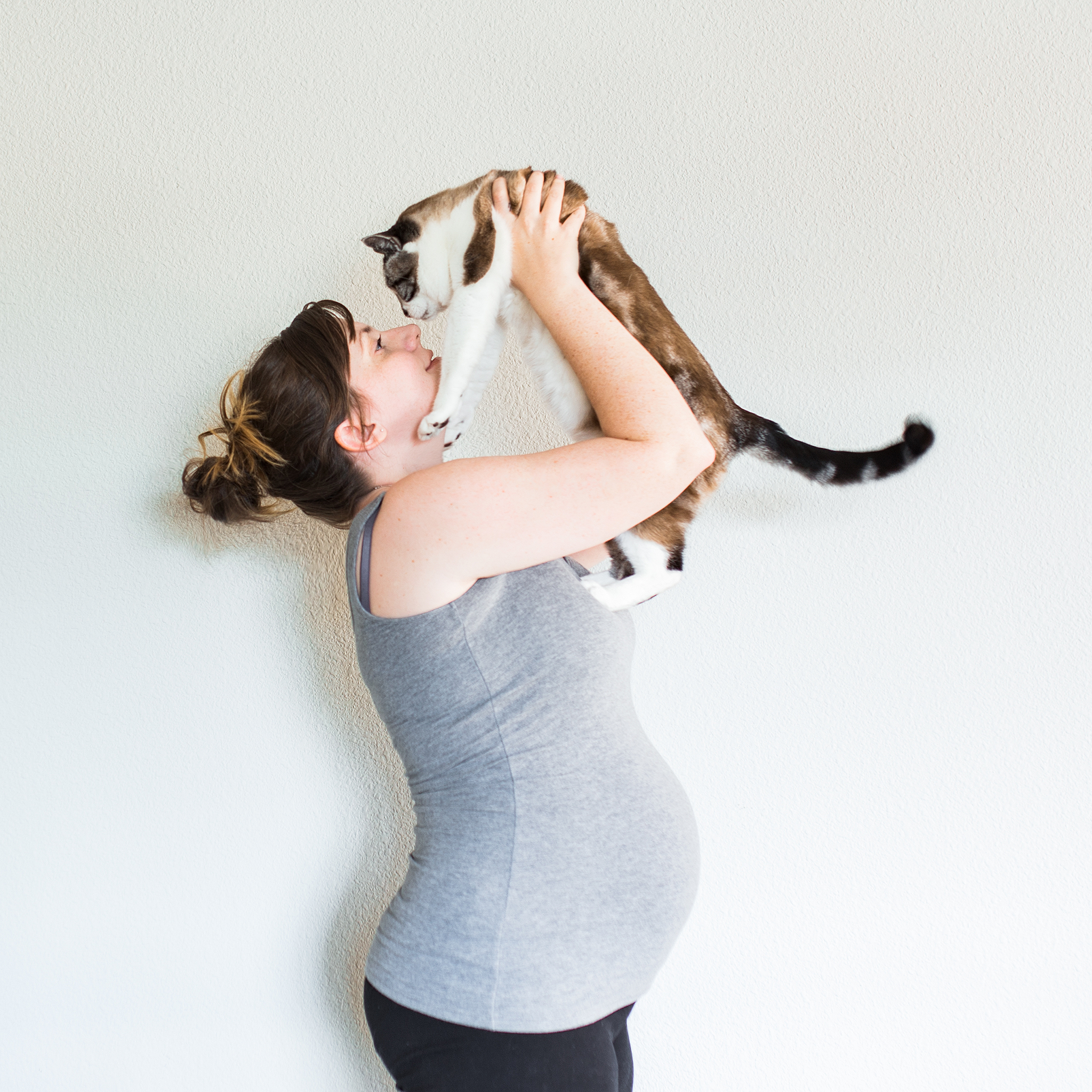 28 WEEKS // 2.22.17
With early spring upon us in Texas and the amazing weather, I made a trip down to the Dallas Arboretum - one of my favorite places so far! I remember feeling absolutely HUGE this day! Haha!
31 WEEKS // 3.20.17
Stopped on the side of the road in a few places after an appointment at my birth center.
32 WEEKS // 3.27.17
Thoroughly enjoying the sun in my backyard, and an ice cold glass of chlorophyll!
33 WEEKS // 3.29.17 - 4.1.17
I wasn't sure if I wanted to share this first one, but showers and baths have been such an IMPERATIVE part of keeping me comfortable during my pregnancy, it wouldn't be an accurate depiction to leave these types of photos out. And to be honest, I don't feel shy about showing some skin now and again. Especially pregnant. :)
Also a few more at-home images as well as my 29th birthday photo!
34 WEEKS // 4.5.17
Went down to the lake next to our house for some pretty evening light.
4.10.17
This photo was taken the day after we'd been in the hospital after 15 hours of preterm labor. I ended up having to be sedated to stop the labor, but I spent the next 3 weeks in prodromal labor (a type of labor that happens prior to the onset of full active labor. It is often considered a type of "false-labor," but this is a misnomer, because doctors and midwives will explain that the contractions are real but they start and stop). Baths, which I've taken every day for my entire pregnancy (sometimes more than once a day) became even more frequent during these weeks.
36 WEEKS // 4.19.17 & 4.25.17
A simple bump shot and more shower therapy, haha! Wesley was posterior for much of my prodromal labor (probbaly what was causing it) and with my contractions came some back labor helped only by hanging my belly and sitting under the warm water.
37 WEEKS // 4.26.17 & 5.2.17
This was a big milestone for us. I wasn't able to give birth in my birth center until I was 37 weeks, and I'd been on modified bedrest (I could be up for an hour with minimal activity and then I'd have to lay down for an hour - not sit, LAY - and so on) for 2 weeks prior to this. I was released from bedrest this week and officially allowed to give birth with my midwife in my birth center.
My mom also flew in from Oregon this week. She wasn't going to come until May 7th but came a week early because I'd been showing signs of going into labor early. Of course, because we thought he was coming early, now he's stayed put! Mom and I have thoroughly enjoyed our neighborhood pool which opened May 1st!
38 WEEKS // 5.7.17
My self portrait project has sort of made me look like a single mom, haha! But that's simply because 1) I'm alone a lot, and therefore taking photos of myself only is more feasible, and 2) Conner does not enjoy having his photo taken (and yet he married a photographer!). He didn't mind me capturing this moment between us, though. :) He's been the most amazing and supportive husband a girl could ask for, and my ability to do these fun things and focus on my pregnancy is 100% thanks to him and his hard work!
39 WEEKS // 5.12.17
I came home one day to find 30+ birth affirmations written out and stuck on my wall by my mom. It was one of the sweetest things, so of course I had to get a photo with her in front of them!
40 WEEKS!!! Hello Due Date! // 5.17.17
That brings us to today! Wesley's due date! Even though first time moms typically do go over their due date, we didn't think we'd get here because of the early labor signs. But here we are! Although I'm quite ready for him to be born, I know it's best for him to stay in there and cook for the full 40 weeks, and I'm kind of proud to be here today. I must admit, though... now I REALLY want him to come! My dad, sister and brother-in-law are flying out in 8 days to meet this boy. It would be nice to actually have a baby to show them! :D